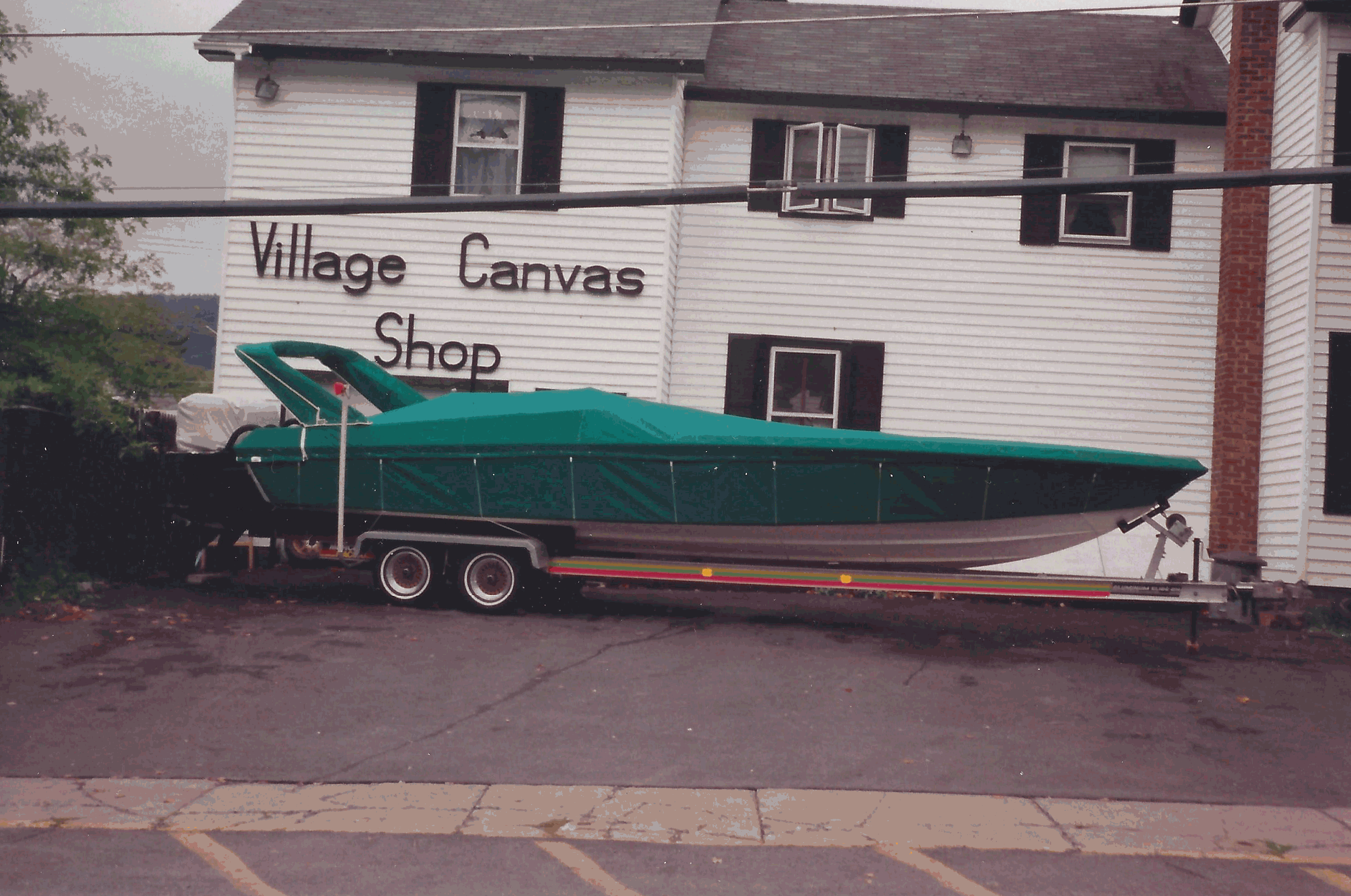 Within a few weeks he had taught me the basics and set me up with a boat to cover on my own. The job took me forever. I was getting discouraged, but my boss kept reassuring me that it was going just fine. From there it just took off! I taught myself most of the techniques that I still use, and have improved on many more. The marina grew in size and the owner lost sight of his biggest assets, his employees. After managing his canvas shop for a little more than two years, I set out on my own. I received financial help from my Parents, as well as a space in their building, to open my first shop in the village of Lake George. The "Village Canvas Shop" was started. Without the financial and moral support of my whole family I wouldn't be where I am today. Working out of a small garage, and offering dockside service is how I managed to get started. 
While working at a marina in the area, hired to do just about anything asked of me, I became close to the woman who was head of the canvas shop. During lunches we would talk and I would watch her sew. Over the course of a year I would watch her put snaps in the boats and do the fitting. Occasionally I would assist her when she needed extra help. I thought it was fascinating how she took a big piece of fabric and made it into a cover that fit like a glove with just a few tucks and seams. After repeated problems between the woman and the marina owner, she left to continue her own business. Shortly thereafter, the owner asked me if I would be interested in learning the trade. After all, he had started the marina by making covers for boats. With a scraper in my hands and looking at the bottom of the boat I was working on, it didn't take me long to take the offer and come out from under the boat.
Over the next twelve years I built the business and customer base by making the best covers I could at a fair price, treating every boat as it was my own, and always finishing on time. Now in a building four times larger than the one I started in, I am able to bring up to a twenty-eight foot boat inside and work year round. My new facility has an office, sewing room with a twenty foot by five foot table and a thirty-two foot drive through work bay. I still offer dockside service and have a great working relationship with several marinas on Lake George. To this day I still get excited each time I put a new cover on a boat!